Zoo Chleby was founded on June 5, 1997. The Zoo arose on foundations of previous private collection of animals, which Dana and René Franěk used to have in Úvaly near Prague. As the collection was expanding by attractive exotic species (Red-tailed Amazon, Hyacinth Macaw, Great Indian Hornbill, Green-billed Toucan, etc.), the interest of pubic to see them grew. Many often visited to watch rare Pheasants, Cranes, Parrots, Toucans, etc. Small garden area by the family house was soon not large enough and it was necessary to look for a new place - not for private breeding, but with a goal of building a small private zoo.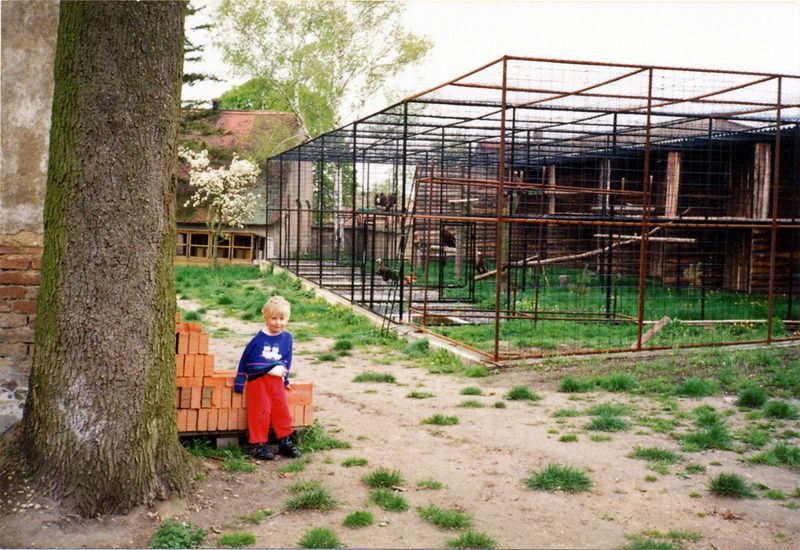 photo from era of the building of the zoo (~1995)
In 1997 was chosen a long uninhabited and unused, heavily damaged manse in a small village Chleby (near Nymburk). With intensive work of the Franěk family and help of their friends, the zoo was gradually built up. Pheasants (including Crested Fireback, Great Argus, Tragopans...), birds of prey, Rhinoceros Hornbills, etc. from the beginning wide range of flora was also present.
Many visitors quickly found their way to the zoo and the number kept growing. In 2004 the zoo became full member of EARAZA (Eurasian Regional Association of Zoos and Aquariums) and was first private zoo in the country (after-revolution) to obtain license by the Ministry of the Environment. Already in the first yeas of its existence the zoo achieved remarkable successes in breeding - for example repeated breeding of Rhinoceros Hornbill, first to breed Temminck's Tragopan in the country, breeding of See-see Partridge and Caucasian Grouse (first on the world).
In next years the zoo thanks to its own efforts as well as of efforts of numerous volunteers dynamically expanded. Species of animals were diversificated and added were children's zoo, pavilion "Angkor Wat" (for Gibbons), giant fresh water aquarium "Elbe", cheetah pavilion "Livingstone House", collection of concrete sculptures displaying recently (currently) extinct animals, displays of Meerkats, Ring-tailed Lemurs, etc. Significantly was also improved infrastructure and customer service.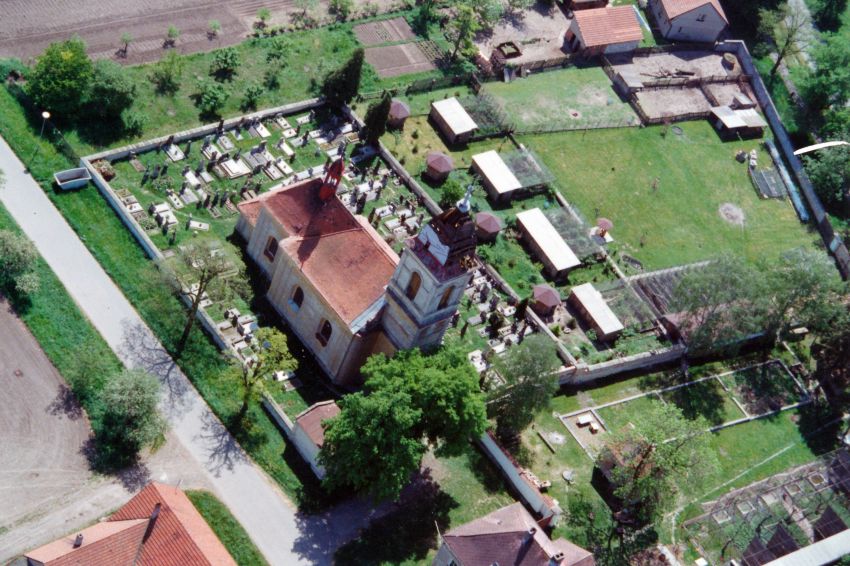 aerial view of the beginning zoo (~2000)Zoo with its area of only 0.6 hectares belonged among the smallest in the country. However, that has changed, too. In 2008 was bought a land of past field with size of 3.7 hectares, located just across the road of the zoo. Administrative processes took few years before it was possible to build and expand the zoo. First was built a parking lot, planted thousands of trees and bushes, realized engineering sites, and by the end of 2012 a first animals were added - Camels. In the following year, thanks to grant received by the Ministry of Agriculture, began constructions of modern environmental center in traditional barn style and large playground. More works are fully undergoing. Zoo is constantly growing and still keeps visitor affable with friendly, even family atmosphere. More than 70 species form all continents (except Antarctica) and numerous plants (i.e bamboos) are to be seen there.
ZOO in time:
| | |
| --- | --- |
| 5th June 1997 | founding the zoo |
| 2004 | entering EARAZA (Eurasian Regional Association of Zoos and Aquariums) |
| 2004 | obtaining license by the Ministry of the Environment (as first private zoo in the country after revolution) |
| 2006 | opening souvenir store, children's zoo, and food stand. Rennovation of entry gate |
| August 2007 | new web of zoo |
| 9th June 2007 | opening of unique gibbon pavilion "Angkor Wat", in style of the world famous Cambodian sight |
| 10th - 11th May 2008 | hosting of student's World Championship in asian board game Go |
| 2008 | obtaining 3.7 hectares of new land |
| June 2008 | opening giant fresh water aquarium "Elbe", which with its volume of around 45 m3 belongs among the largest in the country and displays over 20 Elbe's fish species |
| 27th April 2009 | Yellow-cheeked gibbon newborn |
| 21st June 2009 | start of Facebook page of ZOO Chleby |
| 2009 | reconstruction of main administrative building (roof, facade) |
| 2010 | making of bee exposition |
| 25th September 2010 | opening of cheetah pavilion "Livingstone House", in style of the house in which the famous traveler was found dead |
| 2010 - 2012 | making of series of concrete sculptures displaying recently (currently) extinct animals and several indigenous people - altogether 29 sculptures (15 species). Only similar collection in the country and of such size in Europe, probably even on the world |
| July 2011 | making of photo nook "Mascarenes" with 3 sculptures of extinct animals (Dodo bird, Saddle-backed Rodrigues giant tortoise, Mascarene Parrot) and sculture of woman of local ethnic of Cafres. Included is vending machine with souvenir coins displaying Dodo bird. |
| September 2011 | making of Coypus enclosure |
| 2012 | making of Camels enclosure |
| February 2013 | new (temporary) website of zoo |
| 2013 | making of enclosure and house of Ring-tailed lemurs |
| 21st June 2013 | opening of enclosure and house of Meerkats, including two sculptures of Bushmen |
| 2013 | beginning construction of environmental center and children's playground |
| November 2013 | new modern and extensive website of the zoo, including engaging quizes (on the base of PC game) |
| 12th April 214 | grand opening of New ZOO |
| 2014 | commissioning of the electronic ticket system (electronic cash boxes) |
| 2015 | beginning of the construction of a house for red-shanked douc |
| 6th August 2016 | grand opening of the Mendel Ecocentre |
| 26th August 2016 | arrival of 1.2 red-shanked douc - most beautiful primates of the world and currently the rarest animals kept in the Czech Republic |
| 1st October 2016 | grand opening of red-shanked douc house, which was called Doc. Jebavý's Pavilion - in honor of the deceased ethologist, zoologist, primatologist and longtime member of board of directors of Zoo Chleby, doc. ing. Lukáš Jebavý, PhD. |
| November 2016 | the zoo attained the third territory near the both current. It is an area of ​​the former collective farm with an area of ​​0.35 hectares, where were a technical facilities (garages, administrative building, various workshops, hall, boiler room, courtyard etc.). The area is planed as a technical (non-public) base of the zoo and a reserve parking lot, but even possibly exhibitions are not entirely excluded in the future. |
| 17th May 2017 | Zoo Chleby became the 20th member of UCSZOO (Union of Czech and Slovak zoological Gardens) |